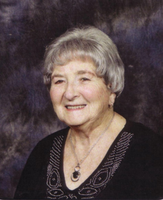 Doris J. Mann
Doris J. Mann, age 91 of Lower Mt. Bethel Township passed through the gates of Heaven on July 15, 2017 to spend eternity with loved ones. Born on October 4, 1925 she was one of five daughters of the late Raymond and Mabel Possinger Keller of Monroe County. Doris' father left the family when she was a child and her mother died when she was in high school in East Stroudsburg, so she and her older sister Helen left school, went to work in a blouse mill and raised their three younger sisters.
In 1942, she met the late William Mann of Delaware, NJ. They were married by Rev. Harold Eaton in the East Stroudsburg Methodist Church. They were married for just 14 days short of their golden 50th anniversary.
In addition to her parents and husband, Doris was predeceased by a son, Ronald who died in 2009 having served in the U.S. Navy during the Vietnam War; four sisters, Helen Thigpen Lee of Mississippi, Betty Spiers of Saylorsburg, Marie Patterson and Edith Harrison both of Portland.
Surviving are a daughter, Doris E. Ransom and her husband David and their son Eric Ransom and his daughter, Hailey Ransom; a son, William Mann, Jr. and his wife Candy and their two sons, Karl and Michael; many nieces, nephews, cousins and friends. All will miss her sense of humor and the greeting cards she mailed.
Doris was an active member of the Richmond United Methodist Church, Bangor for more than 70 years, where she taught Sunday School, was superintendent of adult Sunday School and a long time secretary for Richmond United Methodist Women. Doris also cooked and served many meals for the Richmond Lions Club. She worked on the Election Board at Lower Mt. Bethel for nearly 50 years. An honor was bestowed upon her as an Outstanding Volunteer Citizen in 1996 and in 2005 for her activities at the Lower Mt. Bethel Senior Center where she joined other members in quilting. She assumed leadership when it came to acrylic, oil painting and ceramics. Doris was also an accomplished needle worker, knitting winter hats for schools, P.U.M.P., and making lap robes for nursing homes.
Burial will be private at the Ramseyburg Cemetery, Delaware, NJ at the discretion of the family. A Memorial Service will be held 11:00 AM, Sunday July 30, 2017 at the Richmond United Methodist Church. In lieu of flowers, contributions may be made in Doris' memory to the Richmond United Methodist, 8538 Delaware Drive, Bangor, PA 18013.
Online condolences to be sent to www.MacFaddenFuneralHome.com