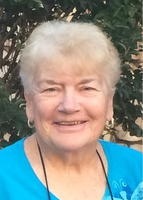 Carol Jane Hmirak
Carol Jane Hmirak, 72, of Chantilly, VA, passed away peacefully on August 18, 2017 at home surrounded by her loving family.
Born on February 21, 1945 in Jackson Heights, NY, she was the daughter of the late Richard George Frankenbach and Mary Sebenia Lodowski.
Carol was a graduate of St. Agnes Aquinas High School and the Thorp Business School. She started her career as an executive secretary for Lipton Tea Company. Carol worked for the Liberty Township Elementary School, EB Erectors, Liberty Mechanical, AIG Insurance and the Fairfax County, VA Schools.
Carol Jane was a parishioner of Saints Peter and Paul R. C. Church, Great Meadows, NJ where she served as a Eucharistic Minister, a member of the Alter Rosary Society, a CCD teacher, and the Knights of Columbus Ladies Auxiliary. She was also a Girl Scout leader and active in her community. She enjoyed traveling and spending time with her grandchildren and friends.
In addition to her parents, she was predeceased by a sister, Nancy Seaman.
Surviving are her husband, Willian Hmirak of Chantilly, VA; daughters, Kristin Gorman, Nancy Mattfeld, and Suzanne Poch; two granddaughters, Sara and Anna; six great-grandsons, Tim, Wil, Zach, Nolan, Sean, and Carson, all of Centreville, VA.
A Mass of Christian Burial will be celebrated 11:00 AM, Saturday, September 2, 2017 at Saints Peter and Paul R. C. Church, Rt. 46, Great Meadows, NJ with Reverend Grzegorz Podsiadlo as the Celebrant. Interment of her cremated remains will follow in the Pequest Union Cemetery, Cemetery Road, Great Meadows, NJ. Funeral arrangements are under the direction of MacFadden Funeral Home, Belvidere, NJ.
Online condolences are to be sent to www.MacFaddenFuneralHome.com
Contributions may be made in the memory of Carol Jane Hmirak to the American Cancer Society fund center.