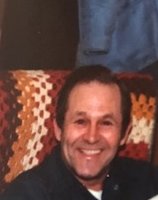 Doeke Demers
Doeke Demers, 83, of Columbia,NJ, died Sunday evening, August 27, 2017 at his home, surrounded by his family and his beloved canine companion "Roofie." Doeke will be lovingly remembered by the love of his life and wife of 62 years, the former Shirley Lambert.
Born February 28, 1934, in Allamuchy, NJ, he was the son of the late Rudolph and Ymkja Demers. Doeke was a 3rd generation farmer. As a little boy he learned to farm, raise dairy cows, fix tractors, bail hay, and tend to his precious gardens. He lived on his beloved farm surrounded by family for 72 years. He retired from farming in 1993 and went on to work at Warren County Department of Public Works, as a mechanic. Doeke retired from the DPW in 2008.
Doeke's greatest accomplishment in life was helping Shirley to raise their four children. Doeke was a family man and took great pride in his children, grandchildren, great grandchildren, nieces and nephews. Doeke was especially proud that he had raised a Grand Champion Appaloosa that both his daughters showed. Doeke loved hunting his land with his sons and was always in search of the perfect buck.
He was an avid fisherman and loved his annual trip to Canada with family and friends. He enjoyed playing the banjo in his younger years for all of his family and friends. Later in life, Doeke developed a passion for pulling tractors and went on to win many awards with his "fleet" of tractors. He was a hardworking family man who instilled love for family and a strong work ethic into his children. He will be missed beyond words.
He was preceded in death by his son-in-law, William Mitchell; brothers-in-law, Ralph Smith and Barry Lambert.
In addition to his wife Shirley, Doeke is survived by four children, Connie Mitchell, Carbondale Pa, Cindy Grodkiewicz and husband Jeff, of Glen Gardner, NJ; sons, Randy and Danny Demers of Columbia, NJ; six grandchildren, Laurel Masco and husband John, Carbondale PA, Christina Smith and husband Steve of Glen Gardner, NJ, Aaron Hayes and companion Lori Amorine of Jermyn, PA, Jeremy, Travis and Devon Grodkiewicz of Glen Gardner NJ; three great-grandchildren, Mitchell, Elias, and BaellaEve; a sister, Mary Smith of Columbia, NJ: several nieces and nephews.
Funeral Service will be held 11:00 AM, Friday, September 1, 2017 at MacFadden Funeral Home, 325 Hardwick Street, Belvidere, NJ. Interment will follow in the Ramseyburg Cemetery, Knowlton Township, NJ. Friends may call from 6:00 to 8:00 PM Thursday, August 31, 2017 at the funeral home.
Online condolences are to be sent to www.MacFaddenFuneralHome.com
In lieu of flowers, contributions are to be made in Doeke's memory to the charity of one's choice.