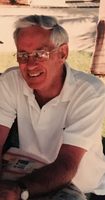 William F. Burke
William F. Burke, 87, of the Brookfield section of White Township, Belvidere, NJ, passed away peacefully on Wednesday, October 11, 2017 at the Hackettstown Regional Medical Center, Hackettstown, NJ.
Born on December 20, 1929, in Plymouth, PA, he was the son of the late Edward and Helen Matthews Burke.
William was a Test Engineer for Public Service Electric & Gas Company in Maplewood, NJ.
Bill served in the U.S. Navy during the Korean War.
Bill had enjoyed traveling, crossword puzzles, and reading newspapers.
Surviving are his wife, Marilyn Steets Burke; three children, Brian Burke and his wife Nicole, Darlene Welch and her husband Billy, Greg Stagaard and his wife Elise; four grandchildren, Ava and Lucy Burke, Christian and Makenna Stagaard.
A Christian Wake Service will be held 2:00 PM, Saturday, October 14, 2017 at MacFadden Funeral Home, 325 Hardwick Street, Belvidere, NJ. Friends may call from 12 Noon to the time of service at the funeral home.
In lieu of flowers, contributions are requested to be made in William's memory to St. Jude Children's Hospital.