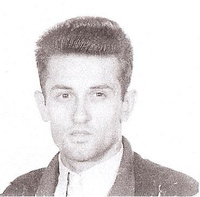 Herbert H. Kunkel
Herbert H. Kunkel, 87, of Belvidere (White Township) NJ, passed away on Sunday November 26, 2017 at St Luke's Warren Hospital.
Born on September 26, 1930 in Hofstetten, Germany, he was the son of the late Michael Kunkel and Agathe Horlebein Kunkel.
Herbert was a chemical mixer for BASF in Belvidere, NJ. He had also worked as a part time limo driver for Hosking Livery Inc. Herbert loved nature and was outside every chance he got.
In addition to his parents, Herbert is predeceased in death by his son Andrew.
Surviving are his wife of 58 years, Johanna Krieger Kunkel; three children; Heidi Peterson and husband Mark, Peter Kunkel and wife Marlene and Michael Kunkel and wife Tara: one grandchild, Holly.
Online condolences are to be sent to www.MacFaddenFuneralHome.com
A Graveside Service will be held 11:00 AM, Friday, December 1, 2017 at the Buttzville Cemetery, Green Pond Rd., Buttzville, NJ under the direction of MacFadden Funeral Home, Belvidere, NJ.