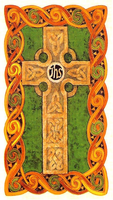 Cornelius "Conie" Hourihan
Cornelius "Conie" Hourihan, age 70, of the Brookfield Glen section of White Township, Belvidere, New Jersey, passed away on Tuesday, January 2, 2018 at his home.
Born on August 5, 1947 in Kenmare, County Kerry, Ireland, he was the son of John Hourihan and Mary Sullivan. Cornelius came to the United States in 1972.
Conie was a paper handler for the New York Times, New York, NY for over 41 years before retiring.
Surviving are his wife of 42 years, also born and raised in Kenmare, Margaret "Peggy" O'Connor Houirhan; two sons, David Hourihan and his wife Sara of Italy and Neil Hourihan of Easton, PA; a grandson, Leonardo of Italy.
Calling hours will be held from 3:00 PM to 7:00 PM Saturday, January 6, 2018 at MacFadden Funeral Home, 325 Hardwick Street, Belvidere, NJ. A Prayer Service will follow at 7:00 PM. The Burial will be in the New Kenmare Cemetery, Kenmare, County Kerry, Ireland.