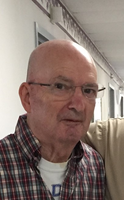 Roger V. Race
Roger V. Race, 77, of the Brookfield Glen section of White Township, Belvidere, NJ passed away peacefully on January 16, 2018 at the VA Health Care Center, Lyons, New Jersey.
Born on October 20, 1940 in Noxen, PA, he was the son of the late Vane Race and Marie Eyet.
Roger was the owner of an industrial design engineering company, RVR Associates, Inc. that he started in 1980. Roger was a member of the V.F.W and American Legion both of Denville, NJ. He was also a member of the NRA. He was an outdoorsman and an avid deer hunter. Roger served in the US Army as a Military Policeman in the 716th Battalion during the Vietnam War from 1964-1969. He was a sharp shooter of M-14 rifle and pistol. Roger received the Vietnam Service Medal, Good Conduct Medal, and Driver Badge during his years of service.
Surviving are his loving wife of 51 years Lorraine Ciccarelli Race; a daughter, Renee Couvrette and her husband Paul; a granddaughter, Sarah Louise Couvrette; a brother Richard Race and his wife Sandy.
A Private Graveside Service will be held at Belvidere Cemetery, Belvidere NJ.
In lieu of flowers, contributions in his memory may be made to the New Jersey Chapter American Parkinson Disease Association, P.O. Box 214 Elizabeth, NJ 07207.