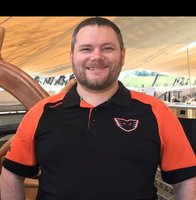 Frankielee Michael Bailey
Frankielee Michael Bailey, 39, of Alpha, NJ passed away peacefully on April 14, 2020 at home of a brain aneurysm.
Born on March 1, 1981 in Hackettstown, NJ, he was the son of Marjorie Poyer Bailey and the late Paul F. Bailey.
Frank was a Nuclear Operator for the U.S. Navy and worked on submarine nuclear programs. He later earned his Associates Degree from Warren County Community College. Most recently, Frank was employed as the Head of Operations at Inno-Spin.
A lifelong member of the Boy Scouts of America, Frank achieved the rank of Life Scout. He supported his local troop as a volunteer leader. He was a gaming enthusiast who especially enjoyed playing Warhammer 40,000 and Battletech. Frank was an avid ice hockey fan and a regular attendee at Lehigh Valley Phantoms games.
More the anything, Frank loved his family. They will miss his integrity, his quick sense of humor, and his strong work ethics.
Frank was a devoted fiancé of Jamie Bays. He is remembered by his son, Frankielee James (Claire Swan); mother, Marjorie; grandfather, Edgar Poyer; siblings, Dan, Jennifer, Jeffrey (Christy), and Rebecca (Casey); many dear friends; his beloved cat, Soup.
Online condolences may be sent to www.MacFaddenFuneralHome.com
Details for a memorial service will be announced at a later date.