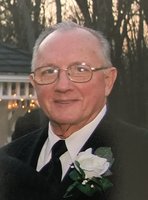 Joseph C. Kolibas
Joseph C. Kolibas, 83, a resident of the Care Center of Brakeley Park, Lopatcong Township, NJ formerly of Lower Mt. Bethel Twp., PA passed away on Sunday, April 19, 2020.
Born on August 3, 1936 in Elizabeth, NJ, he was the son of the late Joseph and Helen Kucniak Kolibas. Joe had lived in Iselin, NJ for many years before moving to Pennsylvania.
Joe was the store manager for the A&P Supermarket, Kenilworth, NJ before retiring. He had served in the US Air Force during the Korean Conflict.
Joe had enjoyed fishing, flea markets and people in general.
In addition to his parents, he was predeceased by his wife, Barbara Ann Francisco Kolibas and a son, Kenneth Kolibas.
Surviving are his son, Jeffrey and his wife Katherine; five grandchildren, Matthew Kolibas, Kyle Kolibas, Jillian Kolibas, Kimberly Kolibas, and Kenneth Rowe; two great-grandchildren, Basmah Kolibas and Bennett Rowe.
A private graveside service will be held in the Belvidere Cemetery, Belvidere, NJ under the direction of MacFadden Funeral Home.