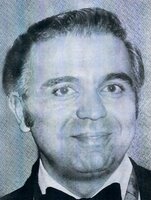 Joseph C. Cicco
Joseph C. Cicco, Sr. "Joe" age 86, passed away peacefully on September 23, 2021.
He was a good Son, Brother, Husband, Father, Grandfather and Friend. He was devoted to his family. Our hearts will miss him deeply.
Born in Pittsburgh, PA, on February 1, 1935, the Son of Rose (Chardella) Cicco and Virgil Cicco. His family moved to Buffalo when he was thirteen where he graduated from Kennmore High School and earned a Bachelor of Science degree from the University of Buffalo in 1965.
He was a past Grand Knight, Council 6424 Knights of Columbus in Old Bridge, NJ. He also served in the United States Army and the Army Reserves until 1962.
Joe was especially fond of golfing, hunting and fishing with his friends. He loved spending time with his family.
Joe started his career with the Fedders Corp. in Buffalo, NY. After moving to Old Bridge, NJ he became the Facilities Manager of Bowne of New York for 22 years (1977 to 1999).
He especially loved his five grandchildren who proudly called him "Poppy" or "Papa Joe".
He is survived by his wife Clara Yung Cicco, daughter Juliann (Julie) Cicco and her partner Jerry Martino, son James (Jim) Cicco and daughter-in-law Elizabeth (Liz) Cicco and brother Virgil Cicco.
Joe was preceded in death by his father Virgil Cicco, mother Rose Cicco, brother Martin Cicco and son Joseph Cicco, Jr.
Relatives and friends are invited to A Mass of Christian Burial, 11:00 AM, Wednesday, September 29, 2021 at St. Patrick R.C. Church, 327 Greenwich Street, Belvidere, NJ 07823. Burial immediately following at St. Patrick Cemetery, Belvidere, NJ. A celebration brunch will be held at the Riverton Hotel, Riverton, PA.
In lieu of flowers send donations to Make a Wish Foundation.