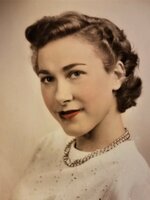 Lorraine Panulla Day
Lorraine Panulla Day, 92, entered into eternal paradise on Monday October 04, 2021, at the Renaissance Senior Homes Center in Forks Township, PA, where she has been a resident since 2014.
Born on April 05, 1929 in Throop, PA, she was the daughter of the late Andrew P. Coar and Anna Bartko Coar.
She was predeceased by her husband of 29 years, Louis J. Panulla; a second husband, Henry Sergey; a third husband, Thomas Day.
She was a member of the Throop, PA High School graduating class of 1946. She worked as a seamstress for many years and was a member of the International Ladies Garment Workers Union.
She was a parishioner of St. John the Baptist Catholic Church in Scranton, PA and St. Patrick Catholic Church in Belvidere, NJ. She loved bowling, fishing, sewing, crafts, spending time with her family, and travelling to historical places of interest.
She is survived by two sons, Louis J. Panulla, Phillipsburg, NJ and John V. Panulla, Nazareth, PA; a daughter, Joanne Koch, Belvidere, NJ; two grandsons, Kevin Koch and Troy Koch, Belvidere, NJ; a granddaughter, Samantha Quick and her husband Justin; a great-granddaughter, Hannah; a great grandson, Logan, Phillipsburg, NJ.
A Christian Wake Service will be held 12:00 P.M. Saturday, October 16, 2021 at MacFadden Funeral Home, 325 Hardwick St, Belvidere, NJ. Interment will be the in St. Patrick Cemetery, Belvidere, NJ. Friends may gather from 11:00 AM to the time of service.
In lieu of flowers, donations can be made to Autism Speaks.
The family of Lorraine is extremely grateful to the entire staff of Renaissance Senior Homes in Forks Township, PA for the outstanding personal, compassionate, and loving care that they provided her during her residency with them. We also owe a debt of gratitude to Asarcare Hospice of Allentown, PA for the excellent services given to her and our family in her final days.