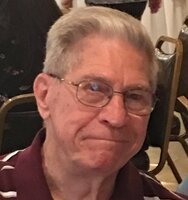 Edward William Libby
Edward William Libby, 89 of White Township, passed away peacefully with his family by his side on Thursday, October 7, 2021.
Edward was born on May 5, 1932 in Green Point, Brooklyn, NY, he was the son of the late Anthony and Margaret Gibbons Libby
He served in the United States Army during the Korean War as a Military Policeman and was stationed in Germany at that time. Edward met his beloved wife, Grace, working in New York City and they have been inseparable ever since. They lived in Jersey City when they were first married and a few years later had two daughters and moved to South Plainfield into their first home together.
Edward worked for McGraw Hill for many years as an Art Director for the Chemical Engineering magazine before taking an early retirement when he was in his 50s. After Edward and his beloved wife both retired, they moved to White Township and met many friends. Edward loved being with his family, sharing every joke possible, watching football, especially the Green Bay Packers, going to the casinos, and playing poker with his buddies. His sense of humor and compassion for his family were two of the many qualities he shared with those that knew him.
Edward is predeceased by his father and mother, Anthony Libby and Margaret Libby, his father-in-law and mother-in-law, John Moliterno and Ida Moliterno, and his brother-in-laws Henry Suffecool, Louis Zweier, and Vito Moliterno.
He is survived by his loving wife of 61 years Grace M. Libby; daughters, Gail Libby, Lisa Nolan (and husband Martin); grandsons, Kyle and Ryan (and fiancée Nairoby); granddaughters, Erin and Briana; great granddaughter, Julia; grand dog, Gabriel; great grand dog Savannah; sisters, Gloria Zweier and Joan Suffecool; and many nieces, nephews, great nieces and great nephews, extended family, and many friends.
A Mass of Christian Burial will be celebrated 11:00 AM, Friday, October 15, 2021 at St. Patrick Roman Catholic Church, 327 Greenwich Street, Belvidere, NJ 07823.
In lieu of flowers, please make a donation to the Karen Ann Quinlan Memorial Foundation, 99 Sparta Avenue, Newton, NJ 07860.