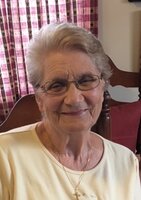 Helen Sue Barnes
Helen Sue Barnes, 79, of White Township, Belvidere, NJ, passed away peacefully in the arms of her husband and daughter on Tuesday, January 25, 2022 at home.
Born on March 24, 1942 in the Port Murray section of Mansfield Township, she was the daughter of the late Harry L. Gulick and Rosina Klein Gulick.
Sue was a graduate of Belvidere High School Class of 1960. She had been the manager of the Warren County Nutrition Center in Washington, NJ. Earlier, Sue had been the switch board operator and mailroom clerk at the Warren County Court House, Belvidere, NJ. Sue was a crossing guard at the Oxford and Fifth Street corner in Belvidere. She also served as a lunchroom aid.
Sue was a 40year member of St. Mary's Episcopal Church in Belvidere where she sang in the choir and served as a Sunday School Teacher.
Earlier, Sue was an active Girl Scout Leader, Den Mother for the Cub Scouts and a Cheerleader Coach.
The most important to Sue was her husband, children and grandchildren.
In addition to her parents, Sue was predeceased by her son, Michael; a sister, Harriet Dugan; a brother, Frank Klein.
Surviving are her husband of 60years, Lawrence W. Barnes, Jr.; a daughter, Darlene Barnes; a son, Mark and his wife Kim; seven grandchildren, Steven, Jason, Melissa, Christopher, Luke, Nathan, and Kate; four great-grandchildren, Jenna, Alexia, Ellison, and Jameson; a brother, David Gulick; a sister, Arlene Kovacs.
Funeral Services will be held 11:00 AM, Monday, January 31, 2022 at MacFadden Funeral Home, 325 Hardwick Street, Belvidere, NJ. Interment will follow in the Belvidere Cemetery, Belvidere. Friends may call from 1:00 to 3:00 PM Sunday, January 30, 2022 and from 10:00 AM to the time of service on Monday, January 31, 2022 at the funeral home.
In lieu of flowers, contributions are requested to be made in Sue's memory to the charity of one's choice.