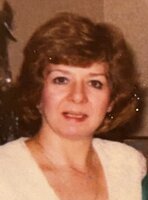 Arlene Calnan-Nolan
Arlene Calnan-Nolan passed away peacefully on October 12, 2022 at St. Luke's Hospital, Warren with her loving family by her side.
Arlene was born in New York City, NY to Edward Francis and Marie (Pascale) Calnan. The family moved to Queens, NY when she was in her early teens.
She is survived by her loving husband, James Nolan; her daughter Dorothy Costanzo; granddaughters Daniela and Angela Costanzo, as well as many nieces and nephews.
In addition to her parents, Arlene was predeceased by her sisters Dorothy Calnan and Kathleen Koenig.
She graduated from New York University with a Bachelor of Arts degree in 1985. Arlene and James met in 1983 and moved from Queens to New Jersey in 1990. Arlene worked for many years in the banking industry. She also worked with her husband doing administrative work for his construction business.
Arlene loved to spend time with her family and friends. Painting, Drawing and Gardening were something she enjoyed as well as traveling and spending time in the countryside.
On Saturday October 15, 2022 family and friends may call from 10:30 AM to 12:30 PM at MacFadden Funeral Home. A Mass of Christian Burial will be celebrated 1:00 PM at St. Patrick R.C. Church, Belvidere. Burial will follow in St. Patrick Cemetery, Belvidere.
In lieu of flowers, contributions are requested to be made in Arlene's memory to the Michael J. Fox Foundation for Parkinson's Research.